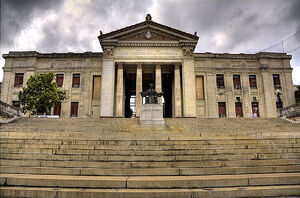 The University of Havana is the oldest University in the Republic of Gain and California and is the premier University for the Study of Ancient Gain. The school was founded in 67 A.U.K.
The school was founded in 67 A.U.K. to serve as the premier school for studies of the Ancient Gainese Culture. The School has served as one of the only colleges in the Repuiblic of Gain and California.
Education
Edit
The school teaches history espicially in the studies of Ancient Gainese Culture. Also the school teaches studies in Medicine in the Arch Duke Pewee Seastar School of Medicine next to the Bay of Havana in the city of Old Havana.
The School has a famous College Quidditch team called the Havana Godzillas named after the schools mascot. The Team is part of the Imperial College Quidditch Association a.k.a(ICQA). The schools rivalry is with the Imperialist School in St. Bishop. The team has olny won one College World Cup.
Ad blocker interference detected!
Wikia is a free-to-use site that makes money from advertising. We have a modified experience for viewers using ad blockers

Wikia is not accessible if you've made further modifications. Remove the custom ad blocker rule(s) and the page will load as expected.