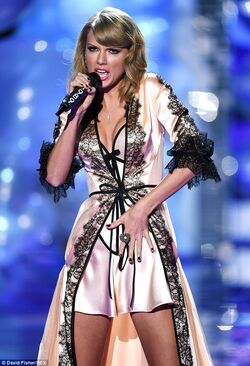 Taylor Wift is one of the biggest singers and stars of the Gabanian Music market. She is heir to the Wift Radio and Records Empire. She also currently holds the title to the most sucessful artist in number of albums sold around the planet. She is currently married to the Gainese Prince and owner of Seastar Productions, Ryan Seastar Duke of Marvel. Making her the Duchess of Marvel.
Early Life
Edit
Taylor Wift was born on Jonduary 40, 1298 A.U.K. as Taylordora Theamos Cleopatra Niphodos Wift of Athens. She is daughter of the famous Wift Radio Records and Broadcating Co. founder and owner. She was sent off to study Athenian and the Ancient Book of Gabanian Fables in the Temple of Athens but was kicked out for not dressing properly within the walls of the temple. She later began working in her fathers company were she recorded her first album and hit single, Smell My Wift. Overnight she became a instant hit as her single was broadcasted over Magic 107.7 and quickly got onto The U.K. Top 10 Chart. Since then Smell My Wift has sold over 900 Trillion Copies world wide. But the sudden fame also brought to her attention from the media. She illegally brought Gainese Honeyduke into the country and was sentenced to 3 months in Prsion.
Further Trouble
Edit
She was released on bail for 234 million shells but within the next week was back in Prison after yet another drug run and shooting at a 501'st Legion Officer. She was sentenced to 20 Years in Espana Prison without bail or parole.
Come Back
Edit
She was sentenced after 15 years onto parole for good behavior to 5 years in the Mother Goddess Athena Rehabilitation Center for Drug and Substance abuse. After her 5 years she began writing major hits and her next hit was Green Plasma which once again topped the charts but recieved negative reviews because of her trip to prison. But she made it big again when she was selected to be the most famous of Magic 107.7 DJ's Ryan Seastar's Co-Host.
Seastar Affair
Edit
She was quickly interested in Seastar and the two began to see eachother often outside of the studio on dinners and going to the clubs were they would be the dj's at. Their Relationship at first seemed to be just a friends one but on June 30, 2012 A.U.K. A St. Bishop Times Journalist discovered the two holding hands and going to a hotel room together. A photo of it was published and Katy Perra rival of Wift and wife of Seatsar got divorced. Seastar and Wift later married and were kicked off the air and have moved to His private island in the Carribean Ocean in the Republic of Gain and California were they can be away from the Russian Press and Media which cannot go their freely as the Gainese press may not touch the Royals.
Ad blocker interference detected!
Wikia is a free-to-use site that makes money from advertising. We have a modified experience for viewers using ad blockers

Wikia is not accessible if you've made further modifications. Remove the custom ad blocker rule(s) and the page will load as expected.