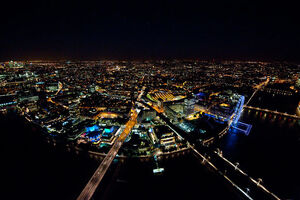 South London, St. Bishop is a suburb to the city of St. Bishop, Russia. It was originally considered the most expensive suburb in the city until West London was created and South London saw a wave of crime enter the area. It is about 450 Macrometers away from Capital Square.
South London was founded in 1345 B.U.K. when the Empress Aphrodite XI ordered for a expansion to the city in the souther end near the Hobokem Mountains. The City was built in 1346 B.U.K. and later was established as a suburb and the first resident's began pouring in.
Ad blocker interference detected!
Wikia is a free-to-use site that makes money from advertising. We have a modified experience for viewers using ad blockers

Wikia is not accessible if you've made further modifications. Remove the custom ad blocker rule(s) and the page will load as expected.