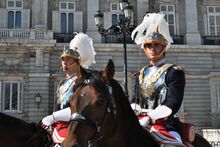 The Royal Guard of Athens is the Police force of the Royal City of Athens. They are in charge of protecting and serving the city of Athens, and the surrounding outskirts of the Kingdom. The Royal Guard is different from Her Majesty's Royal Order of the Jedi whom protect the Queen of Athens. The Royal Guard of Athens has a police force of 35,567 officers, 15,256 foot men, and 5,254 Commanding officers and 1 Commisioner.
Ad blocker interference detected!
Wikia is a free-to-use site that makes money from advertising. We have a modified experience for viewers using ad blockers

Wikia is not accessible if you've made further modifications. Remove the custom ad blocker rule(s) and the page will load as expected.