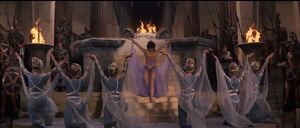 There are many religious and official Imperial holidays on the planet of Gaban. With the 36 months that gaban expirences here are the holidays that come up that are officially recongnized by the Local and Ofiicial Goverments

January:
1 Annum Nova( First Day of the Athenian Calender and year)
22 Emperors Birthday
23 Soleres Day in Gain & California
Jonduary:
1 Qualeres Day in Athens
24 Ni' sefre day in Puerto Rico
30 Whale Day
Febuary
3 Battle of Havana Day
5 Memorial Day in Republic of Gain and California.
March
1 Begin Holy Month
3 Mars Birthday
5 Athens Day
April
1 Misteif and Mayhem Day
2 Day of Forgetting
17 Ross Hasi'nn (Start of Gainese New Year)
Ad blocker interference detected!
Wikia is a free-to-use site that makes money from advertising. We have a modified experience for viewers using ad blockers

Wikia is not accessible if you've made further modifications. Remove the custom ad blocker rule(s) and the page will load as expected.