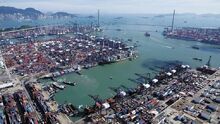 The port of Gain is the busiest port in traffic and the amount of cargo that passes through it. There is an old saying that if you take on the Port of Gain, you gain control of the planet. The port is home base to the largest ship ever built, the HMS Havana. The factory of Isbel Gain & Co. also happens to be located right on the Port so as to get the freshest ingredients possible.
Ad blocker interference detected!
Wikia is a free-to-use site that makes money from advertising. We have a modified experience for viewers using ad blockers

Wikia is not accessible if you've made further modifications. Remove the custom ad blocker rule(s) and the page will load as expected.