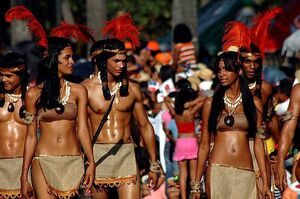 The Ponce peoples are the native inhabitants of the area around Ponce in the Kingdom of Puerto Rico. The Ponce peoples have inhabited Puerto Rico since around 16000 B.U.K. when a group of Shinto People people entered the carribean ocean. The Ponce people have had complete control of the Island of Puerto Rico since their arrival and have never had it captured by the Gainese Peoples. The Ponce Peoples are also known as Puerto Ricans.
Ad blocker interference detected!
Wikia is a free-to-use site that makes money from advertising. We have a modified experience for viewers using ad blockers

Wikia is not accessible if you've made further modifications. Remove the custom ad blocker rule(s) and the page will load as expected.