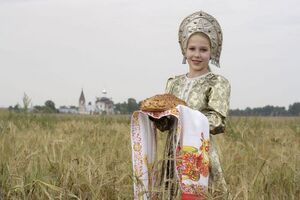 The Kokoshnik is a Religious piece of headwear used by Batese Women and Athenian Women. It is a very traditional piece dating back to the beginning of the civilizations of the later.
Batese women were among the first to use the Kokoshnik which is how the Kokoshnik got it's name from. Kokoshnik is an Athenian word meaning crown of St. Bishop. St. Bishop of course is were according to religion, all Shinto people were born and came to the world from. The Kokoshnik has been a religious headwear worn on religious celebrations and when women visit Temples. The fancier the Kokoshnik, the wealthier the woman is. Often times a Kokoshnik is made with fine silk and jewels. All women have Kokoshniks even if they aren't large like the wealthier ones are. Kokoshniks are also used as crowns for the Empresses of the United Kingdom of Russia and Athens.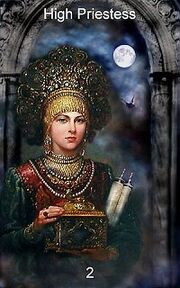 Manufacture
Edit
A Kokoshnik is made by hand by Batese and Athenian Women. Much pride is taken in making a new Kokoshnik as it is passed down from mothers to daughters. A young girl learns to make her Kokoshnik from her mother who then helps make her daughters and passes on the skills to her daughter. Kokoshniks are made from fine silk, wool, fur, and other materials. From their rine stones, precious gems, and metals are added to the Kokoshnik. A standard Kokoshnik can take about 1 month to complete.
Ad blocker interference detected!
Wikia is a free-to-use site that makes money from advertising. We have a modified experience for viewers using ad blockers

Wikia is not accessible if you've made further modifications. Remove the custom ad blocker rule(s) and the page will load as expected.