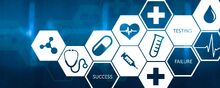 Health Care or Healthcare is the maintenance or improvement of health via the diagnosis, treatment, and prevention of disease, illness, injury, and other physical and mental impairments in human beings. Health care is delivered by health professionals (providers or practitioners) in allied health professions, chiropractic, physicians, physician associates, dentistry, midwifery, nursing, medicine, optometry, pharmacy, psychology, and other health professions. It includes the work done in providing primary care, secondary care, and tertiary care, as well as in public health. It varies from country to country and of course through Religious Practice. Tellawowism fully embraces medicine, how ever some aspects of Athenaism may forbid the practice of medicine or implementation of certain uses of medicine.
Ad blocker interference detected!
Wikia is a free-to-use site that makes money from advertising. We have a modified experience for viewers using ad blockers

Wikia is not accessible if you've made further modifications. Remove the custom ad blocker rule(s) and the page will load as expected.