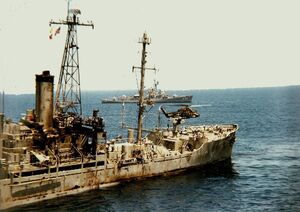 H.I.M.S. Carnberry was the prized ship from the Athenian Imperial Navy Fleet 4209 from the UK's Imperial Navy. It sunk off the coast of Key West n biscayne bay. Some say it exploded before reaching harbor. No one knows how or what truly happened as the shipwreck was destroyed before anyone could ever find it by the rough seas. IT took only 2 days before the Great Temple of Athens to declare all 3,500 crew members were dead. Official Services for the men and women aboard were held in the temple of Athens. The City of Carnberry, Russia is named after the ship and crew. There is a large memorial in St. Bishop, Athens, and Key West.
The Ship was a Athena Class 2300 Seagoing Destroyer. It was built by Key West Shipyards in Key West, Russia. The UK's Imperial Navy stationed the ship in the Imperial Naval Station Athens. There it spent most of it's time protecting the bay of Biscayne as well as the Biscayne Ocean from foreign threats as well as protecting the entrance to the worlds busiest toursit port, St. Bishop
The H.I.M.S. Carnberry sent out a destressed signal which reached NS Key West and United Kingdom of Russia and Jurassic Park Fire Resue station #1. But by the time the navy rescue ships and the Firedepartment boats arrived the ship was under the rough seas and no rafts were seen. It took about 68 hours almost an entire day of frantic search before the Navy and Firedepartment had to be called in due to the rough seas. All 3,500 men and women were pronounced dead and were treated with high respect by the Great Temple of Athens.
Ad blocker interference detected!
Wikia is a free-to-use site that makes money from advertising. We have a modified experience for viewers using ad blockers

Wikia is not accessible if you've made further modifications. Remove the custom ad blocker rule(s) and the page will load as expected.