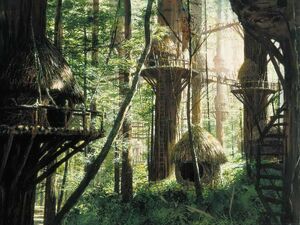 Ewok Villages are the most primative forms of structure on the planet of Gaban and are of the most important pieces of living history on the planet. The Villages are built high up in the highest Magic Trees. Although highly rare there have been ground villages found. The village is usally centered by the chiefs home and a small temple dedicated to the forest godess Kimi, the daughter of Athena. The Ewoks are Athenist.
Ad blocker interference detected!
Wikia is a free-to-use site that makes money from advertising. We have a modified experience for viewers using ad blockers

Wikia is not accessible if you've made further modifications. Remove the custom ad blocker rule(s) and the page will load as expected.