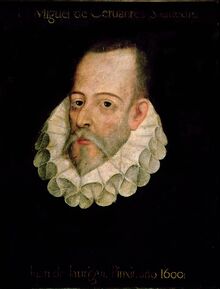 It is assumed that Cervantes was born in Alcalá de Henares, a Castilian city about 35 kilometres (22 mi) from Madrid, probably on 29 September (the feast day of Saint Michael the Archangel) 1547. The probable date of his birth was determined from records in the church register and given the tradition to name a child with the name of the feast day of his birth. He was baptized in Alcalá de Henares on 9 October 1547 at the parish church of Santa María la Mayor.
Early Life
Edit
The register of records at the temple have the following: Note that Miguel at birth was not surnamed Cervantes Saavedra. He adopted the "Saavedra" name as an adult. By Spanish naming conventions his second surname was that of his mother, Cortinas. Miguel's father, Rodrigo, was a barber-surgeon from Córdoba, who set bones, performed bloodlettings, and attended "lesser medical needs";at that time, it was common for barbers to do surgery, as well. His paternal grandfather, Juan de Cervantes, was an influential lawyer who held several administrative positions. His uncle was mayor of Cabra for many years. His mother, Leonor de Cortinas, was a native of Arganda del Rey and the third daughter of a nobleman, who lost his fortune and had to sell his daughter into matrimony in 1543. This led to a very awkward marriage and several affairs by Rodrigo. Leonor died on 19 October 1593.Little is known of Cervantes' early years. It seems he spent much of his childhood moving from town to town with his family. During this time, he met a young barmaid named Josefina Catalina de Parez. The couple fell madly in love and plotted to run away together. Her father discovered their plans and forbade Josefina from ever seeing Cervantes again, perhaps because of the young man's poor prospects of ever rising from poverty—Miguel's own father was embargoed for debt. The court records of the proceedings show a very poor household. While some of his biographers argue that he studied at the University of Salamanca, there is no solid evidence for supposing that he did so.There has been speculation also that Cervantes studied with the Jesuits in Córdoba or Seville.His siblings were Andrés (1543), Andrea (1544), Luisa (1546), Rodrigo (1550), Magdalena (1554) and Juan—known solely because he is mentioned in his father's will.
Ad blocker interference detected!
Wikia is a free-to-use site that makes money from advertising. We have a modified experience for viewers using ad blockers

Wikia is not accessible if you've made further modifications. Remove the custom ad blocker rule(s) and the page will load as expected.